Beautiful teepees are one of those accessories that can add a lot of fun for kids when they play. In addition to being a great accessory to play moments, Teepees are a special hideout for kids. Your kids can get even more out of their teepees than just playing. Most teepees are a simple canvas fabric that can be easily painted. This will add an extra element of fun for children and a way to make the teepee their own while learning to develop their creativity. See some examples below and some tips as well as other info.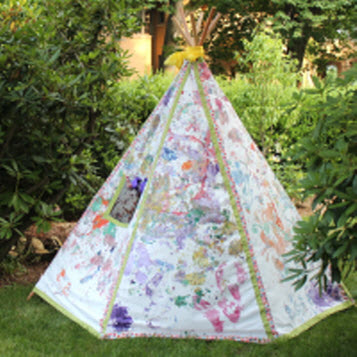 Painting a teepee helps to incorporate good patterns or designs to the fabric to add to the beauty of the teepee. The pattern mostly relates to the painting or the open sections that you would like to put on the teepee. One design could be to have a set of small holes around the teepee or to have a print pattern with a mixture of colours.
The painting can transform a plain teepee into a bright and appealing hide-out for kids and toddlers. Painting can also transform an old teepee into a new-looking one. All you need to make this happen is a collection of dyes, fabric paints and marker pens. Kids can work with this assortment to enhance their teepees.
Colours also make the teepee to suit the theme of the house or the child's favourite colour. You can check out the kind of designs on your house fabrics to get an idea of the kind of patterns the kid likes.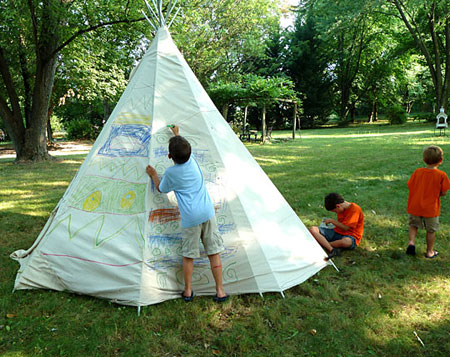 You can make a teepee very stylish with a good paint job and through using a good fabric pattern. You can let the kid paint the teepee after you have set it up or before you assemble it. Before assembly, spread out the material and layout the paint. Thereafter, the child can use a sponge brush to paint the teepee.
You need to pay attention as you apply the paint so as not to mess-up the fabric. Intense colors work best for the teepee patterns. Easier shapes for the child include circles, triangles or any other simple shapes. If the child is really feel up-to the challenge, he can go for complex patterns that involve animals, plants, building or abstract objects that will appeal to him.
Water-based acrylics such as golden fluid acrylics, color-place and liquitex paints are good for kids. You can also provide the kids with paper patterns, pencils and tailor's chalk.